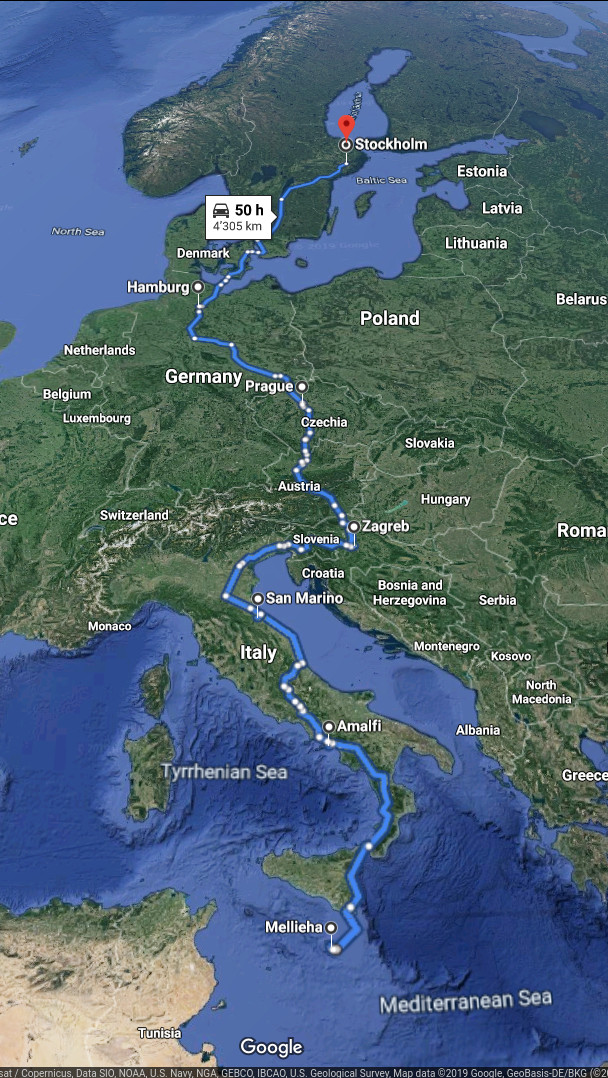 Malta - Sicily - Amalfi
Fuel Malta: 1.28€
Fuel Italy: 1.48€
Fuel San Marino: 1.41€
| | |
| --- | --- |
| ~850 km | ~12 hours |
| Distance | Duration |
| --- | --- |
| ~850 km | ~12 hours |
Caught the ferry from Malta which left at 6:30, and got to Sicily at 8:30. We started the drive up to Amalfi. The weather was not too bad, but it seemed to be getting worse.
The fuel price in Italy varies a lot, and there is a concept of having someone pumping the fuel (serviti) or self-service. Being served costs around 20c more per liter, and some fuel stations don't have the self-service option, so fuel can be extremely expensive. Tolls are not very expensive, we paid around 20€ in total.
Driving on a mountain road, at night, with a right hand driving car is quite challenging, especially on right bends, since I can't see anything ahead. It would be worse if it were raining.
Amalfi - San Marino
Fuel Italy: 1.48€
Fuel San Marino: 1.41€
| Distance | Duration |
| --- | --- |
| ~600 km | ~7 hours |
And the rain started. Fortunately we parked in a covered garage. Amalfi looks great, but it must be amazing with clear weather and the warm light of the sunset. We will probably come back to see it properly.
Got to San Marino late in the evening and went for a walk. The weather is still bad, and very windy. We are staying for 2 nights, so we hopefully it gets better and we can visit.
San Marino - Zagreb
Fuel Slovenia: 1.26€
Fuel Croatia: 1.33€
| Distance | Duration |
| --- | --- |
| ~650 km | ~6:30 hours |
Zagreb - Prague
Fuel Slovenia: 1.26€
Fuel Austria: 1.21€
Fuel Czech Republic: 1.23€
| Distance | Duration |
| --- | --- |
| ~700 km | ~7:30 hours |
Prague - Hamburg
Fuel Czech Republic: 1.23€
Fuel Germany: 1.26€
| Distance | Duration |
| --- | --- |
| ~650 km | ~6 hours |
Hamburg - Stockholm
Fuel Germany: 1.26€
Fuel Denmark: 1.41€
Fuel Sweden: 1.54€
| Distance | Duration |
| --- | --- |
| ~980 km | ~11 hours |